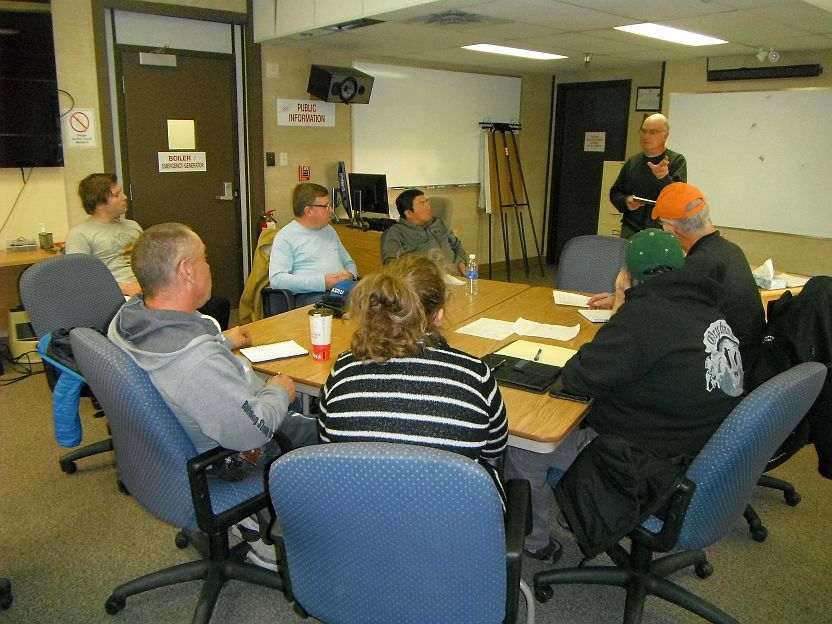 Photo: Oct 1 - First CW workshop with Allen VY1KX instructing. Nineteen people signed up.
More photos>
Videos>

All repeaters in Yukon require a 100Hz Tone to be activated.
Daily 2 Meter Emergency Preparedness Net - 7:00pm Pacific Time
146.880 (Whitehorse)
APRS - position & txt msg
144.390
More info
IRLP - Whitehorse, VY1IRL
146.880 (100)
node: 1500
IRLP - Haines Junction, VY1RPM
146.880
node: 1662
IRLP - Dawson City
146.580 (100)
node: 1898
EchoLink, Whitehorse, VY1CC-R
146.880
node: 836865
D-Star - Whitehorse, (Usually "C" Node)
146.840MHz -0.600
More frequencies
Meetings: 1st Monday of the month, 7:00 pm, EMO Building, 60 Norseman Road, Whitehorse Airport
Coffee discussion group: every Saturday 9:00 am, A&W, 2nd Ave, Whitehorse
Yukon Solutions - an informal discussion group on radio topics. See Contacts Page at bottom of page to sign up
Membership Application Form
Download Here
Get your radio licence.
Radio Courses Page