Aurora Forecast (Alaska)
Aurora and D Region Forcasts
Grey Line Map
HF Propagation Map
- worldwide activity from the last 15 minutes
Yukon Amateur Radio Association
Home Page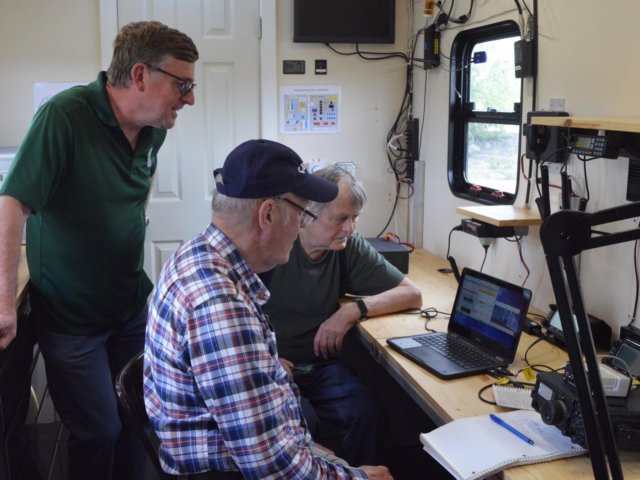 Click on pictures: photo album, Field Day 2022

YARA communications trailer HERE

YARA Events and Activities

2024 Radio course: Starting second week in January More Info
Emergency Preparedness Net: The NET is on its winter schedule 7 days a week at 6:50 on the Haeckle repeater 146.88. The NET will resume on the Wide Area Network in the springtime.
Monthly Meetings: 1st Monday of the month, 7:00 pm, takes place on-line, links are sent monthly on the members' email list
Coffee discussion group: Saturday 9 am, A&W, 2nd Ave
Canada Wide Allstar Net (Echolink, IRLP), Sunday 11:00am-1:00pm, Haeckel Repeater, 146.880MHz
Yukon Solutions: an informal email discussion group on radio topics. See Contacts Page at bottom of page to sign up
YARA on Facebook for sharing pictures and messages: Facebook
Get your radio licence. Radio Courses Page

YARA Yukon-Wide Repeater System
Repeater Map

All repeaters in Yukon require a 100Hz Tone to be activated.
APRS - position & txt msg
144.390
More info
IRLP - Whitehorse, VY1IRL
146.880 (100)
node: 1500
IRLP - Haines Junction, VY1RPM
146.880
node: 1662
IRLP - Dawson City
146.580 (100)
node: 1898
EchoLink, Whitehorse, VY1CC-R
146.880
node: 836865
AllStar, Whitehorse
146.880
D-Star - Whitehorse, (Usually "C" Node)
146.840MHz -0.600
More frequencies